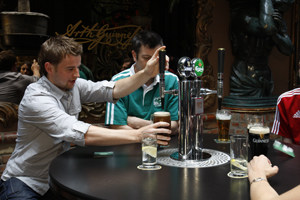 There is self-service for gasoline at the pump, soda at the fast-food joint, and groceries at the supermarket. So the next time you're at a corner bar, how about you get your own beer?
Tir na Nog, a pub in Philadelphia, recently rolled out a two-tap self-service beer bar that seats six to eight people, among the first of its kind on the East Coast.
Ellickson International – the Irish manufacturer, which has a development deal with Diageo, Guinness' parent company – is marketing the Draft Master not only for the novelty factor but for its economic benefits. Draft Master tells bar owners they will get paid for every drop of beer. Because the customer pours exactly how much beer he or she wants, there's also "no waste."
Tir na Nog's table is fitted with twin taps coming out of the top to dispense Guinness and Carlsberg. It is outfitted with a digital readout, allowing patrons and staff to measure consumption. The taps are turned on and off by a computer behind the bar that also runs the tab, which is settled by a waitress.
Read the full story at Philly.com
Pardon us while we pay for beer...