Page 1 2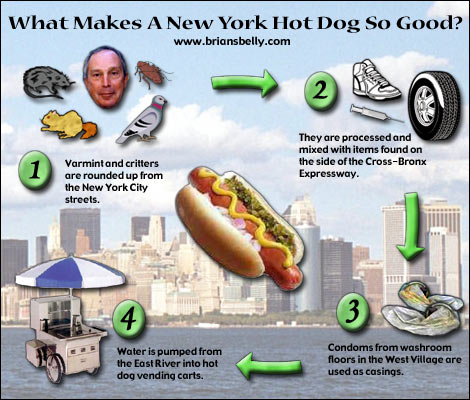 Hot Dog Links
Hot Dog On A Stick
If it's on a stick, we'll eat it.. Don't miss out on their cheese on a stick either.

Hot Diggity Dogger
You've never seen anything like this before. Pop two wieners and two buns into the specially shaped slots on this toaster and in just a few minutes you'll be chomping on yer wiener just the way you like it. It goes for like $39 bucks here.

Nathan's Famous
Since 1916, Nathan's has brought America their famous hot dogs. The original Coney Island landmark is sponsor of the Annual Nathan's Famous Hot Dog Eating Contest (July 4th, 2010 will mark the 95th year!) where fans of competitive eating gather to see how many hot dogs can be consumed in 12 minutes. The current record of 59 is held by Joey Chestnut.

Sabrett
This is the original New York pushcart style frankfurter. These are the franks sold by vendors in on New York City street corners under the famous blue and yellow umbrellas. Sabrett is also known for their delectable onion sauce.

Oscar Mayer
My baloney has a first name all right… it's spelled W-I-E-N-E-R. Check out Oscar Mayer's Hotdogger Blog. It essentially lets you follow the adventures of the Wienermobile.

Ball Park Franks.
Poor bastards, always playing second dog to Oscar Mayer's jingle… "They plump when you cook 'em… boink boink boink… Ball Park Franks." Their site is designed for kids, but you'll also enjoy it if you're a retard or you need hot dog recipes.

The National Hot Dog & Sausage Council
The other NHDSC. This is the place to be if you REALLY want LOTS of information about hot dogs… news, recipes, brochures and furter facts. What the hell are you doing here?

Frankfort Indiana's Hot Dog Festival
Every year, the jerkwater town of Frankfort, Indiana (or should we say dogwater?) holds their annual Hot Dog Festival on Main Street. They invite us to "Come celebrate this favorite summer food and all the great puns that go with it!" I can just picture myself and the other Belly members standing on Main Street with our New York attitudes, drunker than Family Guy because we've had a beer with each and every hot dog we ate. Now you'll hear some puns.
Pardon us while we pay for beer...