What'll You Have?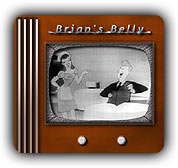 Check out these two classic Pabst Blue Ribbon commercials from the 50's. They'll have you singing the jingle all the way to the beer distributor.
The first contains a cartoon with the classic "What'll You Have?" slogan and jingle, with the tag "finest beer served… anywhere!"
The second, although much slower in pace, scores at the end with the tag "It's like they say… the more you drink Pabst Blue Ribbon, the better you like it!"
Both came from a live feed of a 1950's boxing match that was sponsored by Pabst that I came across as an editor many years ago.  They were locked into our "old site" for some time, but can now that smooth, clear PBR taste can be enjoyed here by all.
And, check out our post on Pabst Blue Ribbon.
Pardon us please, while we pay for beer...