Oktoberfest: Boston Style
By Belly Buddy David Lauterbach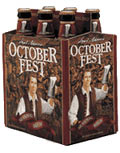 Last year I added Becks Oktoberfest to our selection of reviews here at The Belly and by-and-large, compared it to Samuel Adams Octoberfest noting several times that the Sammy A was a better seasonal brew. Then came the emails… not to disagree with me, but to ask why–if Sammy A was so much better–did I not review have a review of it on the site. Since I cave to pressure quite easily, I bought and finished a six-pack today just for you guys. I'm on number six right now so perdon me if my grammer adn spelling is a bi toff.
As I sit here, leaves are beginning to fall from the trees… some of them right into my beer mug. Although the crisp days of autumn are not quite upon us yet here in New York, I recognize that the Octoberfest is the perfect beer for today's climate. This seasonal German style lager is hitting the spot.

It has a beautiful dark copper/burnt-orange color and poured with a full head into a frosty mug. In fact, in the sunlight the dark empty bottle and the full, previously clear mug have taken on the same color. Often enough in the shorter days, I favor darker over lighter beers. The nice thing about this dark beer is that it has qualities of both… it is much less bitter than you would think, being only slightly hoppy but quite malty. The beer is defined as having four malts: Munich, Harrington, Moravian and Crystal. The tiny little fruity aroma is not disruptive (I don't care for fruity beers). In color and alcohol, it is darker and stronger than Samuel Adams Lager (the Octoberfest has 5.6 ABV, 165 calories).
As usual, light beer drinkers may not enjoy this very much… it has body and taste.
This would be a good beer to bring if you're going to an Oktoberfest party… it's easy to find, it's tasty, and you may even get some of the ladies to try it. I find that women are more open to trying something from Sam Adams than any other microbrewer. Of course, if you really want to impress your beer buddies, locate some Spaten or Dinkelacker (both available in the states) and take one of those along.
Why is Oktoberfest celebrated? Recap: In 1810 some bier loving German royalty decided to get married (Crown Prince Ludwig and Princess Theresia of Bavaria if you really must know). It was their very successful 16 day celebration starting in late September and continuing on through October that later became the annual event known as Oktoberfest in Munich, Germany. I think this year maybe I'll try drinking Sam Adams OctoberFest for 16 days straight and see if they have captured the essence of the original Oktoberfest in a bottle. Of course, a visit to Munich would help clear this up as well. Maybe in next year's budget.
You can find more info at the Samuel Adams website.
There are 115 archived comments…
View All
Pardon us while we pay for beer...