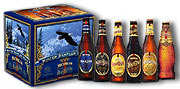 A gathering of six the Belly Buddies for the Leonids meteor shower in November yielded the perfect opportunity to purchase a winter sampler pack to see for ourselves if such a specialty pack is tasteful enough to bring to the next holiday party you attend.
While cruising my local beermonger's shelves, I spotted the Michelob Winter Sampler Pack. This choice seemed like a good idea to me at the time, but upon revealing the case to my bellied brethren I was met with a barrage of tongue clicks and groans- the sound can only be compared to a forest full of crickets and frogs.
The outcome of this taste test was already apparent, but I am not one to accept the fact that I just wasted money on beer that could very well have the power to get us drunk.
Michelob's samples include the following six beers (condensed from their descriptions):
AmberBock, defined as brewed with a dark roasted malt to give it a smooth, full-bodied taste with a clean finish (5.2% alcohol by volume, 166 calories).
Hefeweizen, a wheat and barley malt that has a distinct flavor and rich body (5% alcohol by volume, 180 calories).
Honey Lager, brewed with honey to give the beer a sweet, rich flavor and a barley malts for a deep golden color (4.9% alcohol by volume, 175 calories).
Black & Tan, brewed by combining a full-bodied porter with a light, crisp lager for a unique well-balanced taste (5% alcohol by volume, 171 calories).
Marzen, which is described as only having four ingredients- malt, yeast, hops and water, and can only be found in this sample pack (5% alcohol by volume, 172 calories).
And Michelob, the classic lager that is well known as Budweiser's less-famous brother in the Anheuser-Busch family (5% alcohol by volume, 155 calories).
Asking "who wants what?" to this crowd was a comical event in itself as everyone wanted the classic Michelob. So to keep things fair, I blindly handed one of each kind to the boys.
As each began drinking, I watched the faces of my buddies; all reminiscent of drinking skunked beer, or beer for the first time, or sour milk, or Red Bull- take your pick.
I don't need to tell you that no one liked anything in this case, and I think after that even the classic Michelob fell off of our list of acceptable drinking beer. Normally I'd further break down who drank what and what their respective opinion was, but there is really no need for that here- no one cared for any beer they drank and in the morning after the meteor shower, the only things left in the coolers had Michelob branding on them.
The general consensus? Anheuser-Busch should stick to classic lagers such as Budweiser and Michelob and not try to compete with the likes of Samuel Adams when it comes to specialty beers. Samuel Adams Winter Classics did much better in our taste tests– it's problems were more related to fruityness than disgustingness.
The bottom line is if you want to take something special along with you to your next holiday party, don't bother with the Michelob Pack. Although the odds are that it will be consumed (after all it's intreging to try something labeled "Winter Sampler" around the holidays) the party-goers won't necessarily enjoy the brews as much as they might enjoy other brands and I bet if you pay attention you'll find a lot of half empties around. This beer will leave you wondering if you can return bottles full as well as empty.
There are 32 archived comments…
View All
Pardon us while we pay for beer...